Saturday, July 16, 2011
BACA came to town today and fired up Jarrad and I. It is so good to have these guys in our town. It was a real eye opener to experience these guys passions on empowering children to stand up to the monsters in our society today. Keep ip the good work BACA you have Grimm Brothers' Support here In Victoria.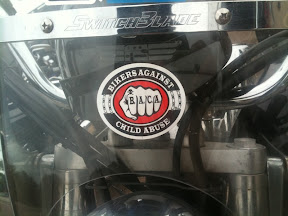 These guys ride all over Texas not to mention the world I'n order to protect our biggest commodity, our children. With 23 chapters in Texas alone BACA continues to roll strong.
Special thanks go out to Guts, Gonzo, Filter, Popeye, Ditch Witch, Skip, Closet, TopHat, Vanna, 2-Tall, and Diesel. These guys came from all over Texas to ignite the spark here in Victoria. Thanks for making the ride, we look forward to working with you guys in the future.
- Posted using BlogPress from my iPhone
Location:Victoria College
Saturday, July 2, 2011
Joshua really needed 20 bucks!
- Posted using BlogPress from my iPhone

Mingo lost his cigarette lighter
- Posted using BlogPress from my iPhone